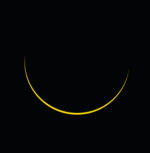 As you probably already know, portions of the United States will experience a total solar eclipse on August 21st. While Johns Creek is not in the path of totality, we will experience 98% blockage. The partial eclipse will begin at 1:06pm and end at 4:02pm, and have 98% of the sun blocked at 2:36pm. Here's an animation of what you can expect to see that afternoon (you can enter different zip codes to see what the eclipse will look like in other parts of the country):
https://www.vox.com/science-and-health/2017/7/25/16019892/solar-eclipse-2017-interactive-map
Remember that is is never safe to look directly at the sun without proper eye protection, you may want to consider purchasing special viewing glasses. Read more about eclipse viewing safety here:
https://eclipse2017.nasa.gov/safety
Please note that Fulton County elementary school students will be dismissed at 3:05pm that day rather than the normal 2:20pm dismissal. Bus service for middle and high school students will be delayed that day due to the late elementary school dismissal.
Hopefully mother nature will bless us with a cloud free day!