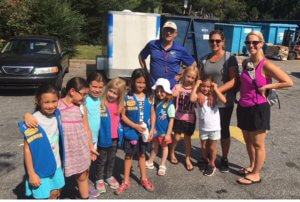 Dear DoubleGate Neighbor,
For the past 10 years Girl Scout troops from the Two Bridges Service Unit have been Holiday Caroling for Cans in effort to collect donated goods for North Fulton Community Charities while spreading Holiday cheer. This year we have chosen the DoubleGate neighborhood and have 10 troops (over 80 girl scouts!) wanting to sing holiday songs to your family in exchange for a couple non-perishable items. North Fulton Community Charities supports over 1,200 North Fulton families during the holiday season and thousands more families throughout the year. The NFCC's list of most needed items is below.
In previous years we have collected over 3,000 donated items and helped to feed and provide for many families.  Please support our girls for our annual Caroling for Cans this year on December 16th from 5:00 – 6:30pm.
If you would like to participate, please sign up with your name and street address below on the sign-up genius link. On December 9th we will drop off a list a needed items you can chose from and a brown paper bag and pick it up during caroling on December 16th.
We are really looking forward to singing to you, but if you prefer to donate only and will not be home, or prefer no caroling you are welcome to leave a donation outside your door in the bag provided, or drop it off at 5285 Laithbank Lane in the box on the front porch (please note – 'no carolers' on your sign-up)
Sign ups: https://m.signupgenius.com/#!/showSignUp/30e094ba8ac29abff2-caroling/62380692
THANK YOU!!
Brownie Troop 11496
**If you have any questions you may call or text Lauren Hill (678) 773-3328, or Tamara Liles (910) 382-6657.
Items that are needed:
Canned tuna, chicken, meat (High Need)
Cereal and Oatmeal
Dried Beans 1 lb. bags.
All types of pasta
Pasta Sauce/Tomato sauce/paste
Meals in Can (Spaghetti'os, Ravioli etc.)
Jelly/Peanut Butter
Mac N Cheese
Flavored Rice/Pasta
Ramen Noodle Packs
Canned Beans, Black, Refried, Garbanzo
All toiletries (toothpaste, shampoo, soap etc.) families cannot use food stamps for these, so the need is high
Items that are not needed:
Green Beans
Corn
Peas
Soups of any kind
Pumpkin
Gravy
Canned White Beans (Great Northern,
Cannellini, Navy)
Canned Kidney Beans